Meet Dr. Kasia Chojan-Cymerman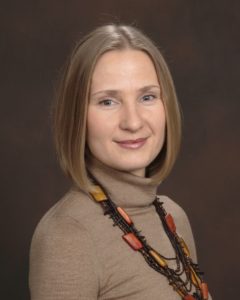 Dr. Kasia Chojan-Cymerman is a psychologist specializing in providing long-term, depth oriented individual psychotherapy. She has been in private practice for the past 8 years. Over the years she worked with teens, young adults, and adults. Her work as a therapist is guided by psychodynamic/psychoanalytic principles. She trained in Chicago and completed her doctoral and post-doctoral training in the Twin Cities.
Kasia believes that lasting change takes place over time in the context of a safe and secure therapeutic relationship. As a therapist, she strives to provide a non-judgmental and supportive space in which her clients can begin exploring and understanding their recurring symptoms. She also helps her patients explore frustrating relationship patterns and becoming more aware of their feelings and deep assumptions that may continually be preventing them from reaching their life goals. She views therapy as a collaborative process in which she helps her clients find the courage to change and rediscover their natural capacity for growth. Her specialty is working with individuals struggling with:
Mood difficulties such as depression, feelings of emptiness, and low self-esteem
Anxiety related problems, such as worries and fears, phobias, social anxiety, panic attacks
Trauma,
Loss and grief
Parenting issues
Dr. Chojan-Cymerman especially enjoys helping patients learn how to have deeper relationships and feel truly connected to others. She possesses extensive training and experience working with individuals struggling with chemical dependency, as well as eating related problems. She has worked both as a therapist and a supervisor in chemical dependency treatment settings, where she gained deep understanding of clients struggling with addictions and eating disorders. She provided therapy focused on recognizing the underlying issues that perpetuate self-destructive behaviors and prevent clients from achieving lasting change and reaching their desired goals.